Ray Whitley should have been a bigger star.

Singer/Songwriter/Actor
Ray Whitley
(1901-1979)

After a stint in the Navy, Whitley ended up in New York City in the late 1920s, where he worked construction projects.
At the same time, he and his band, the Range Ramblers, were performing in clubs and on radio shows.
With the group renamed The Six Bar Cowboys, Whitley recorded sides for the Decca and Okeh labels,
while traveling the rodeo circuit.

Hollywood beckoned in the mid-1930s. Over the course of two decades and 50 odd pictures,
Whitley rode, sang and yodeled alongside stars Tim Holt, Rod Cameron & Gene Autry.
(with Autry, he also wrote such classics as "Ages and Ages Ago" and "I Hang My Head and Cry")
All three mentioned above were top Western stars at that time, and Ray's appearances and the music he provided only added to the entertainment quality.

In the Tim Holt series, Ray was usually known as 'Smokey', and soon became a fan favorite.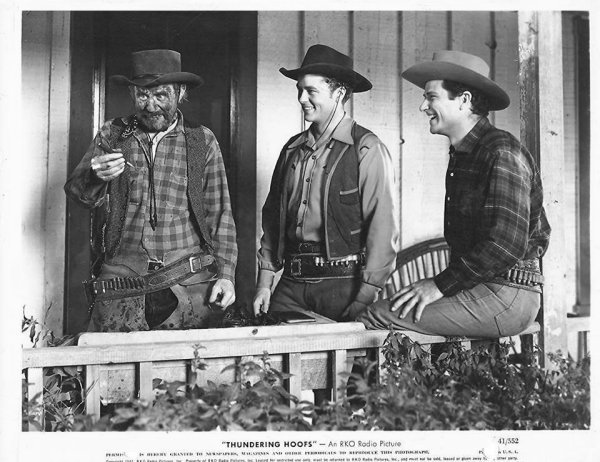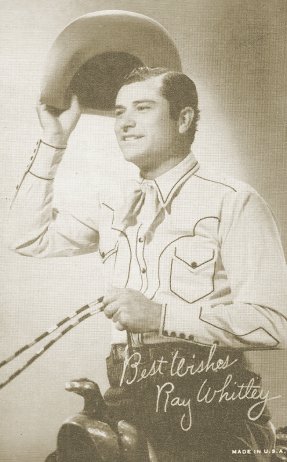 Whitley was awakened at 5:00 a.m. in 1938, by a phone call. Coming back into the bedroom he said to his wife, "Well, I'm back in the saddle again"
and explained that RKO Radio Picture studio had called asking him for a new song to be used in a film, that morning.
She said to him "You've got the title for one right there...'I'm back in the saddle again.'"
He sat down on the edge of the bed and wrote one verse and went to the studio where he performed it in the film "Border G-Man (1938)" just hours later,
and also recorded it.
When Autry heard the number he went for it in a big way. Getting together with Ray, they rewrote it, though the changes appear to have been very slight.
The rest is history. "Back in the Saddle Again" was first featured by Gene Autry in his 1939 movie, ROVIN' TUMBLEWEEDS, and has been identified as
Gene's theme song ever since.
Later, Autry recorded a number of Whitley compositions, including "Ages and Ages Ago", "Rocky Canyon", "Lonely River" and "I Hang My Head and Cry".

Tex Ritter, Johnny Bond, Sonny James and others were also to make profitable use of Ray's material.


http://www.youtube.com/watch?v=sj9rCGM__ug
click here for "Ki Yo My Horse Is Slow"
from the Tim Holt movie LAND OF THE OPEN RANGE (1942)

https://www.youtube.com/watch?v=PzcDM5wZSXQ
click here for "I'll Live Until I Die"
from the Tim Holt Movie RIDING THE WIND (1942)
Ray Whitley also collaborated with songwriter Fred Rose:
For a short time Fred Rose lived in Nashville, Tennessee but his radio show there did not last long and he headed to
New York City's Tin Pan Alley in hopes of making a living as a songwriter.

It was there that he began writing songs with Ray Whitley, an RKO B-Western film star,
and this collaboration introduced Rose to the possibilities of country music.
He lived for a time with Ray and Kay Whitley in an apartment in Hollywood, co-writing many tunes for Ray's movies.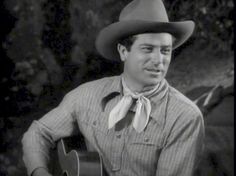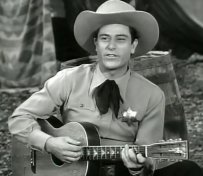 Ray Whitley's film, Border G-Man (1938), which introduced "Back In The Saddle Again,"
was released to movie theaters nationwide on June 24, 1938.
The stars of the movie were George O'Brien, Laraine Johnson (Day) and Ray Whitley, who sings the song at a party in the film.
Of course, "Back In The Saddle Again" was given much wider fame by Gene Autry, who made it his signature song.
Autry actually sang it in three of his movies: Rovin' Tumbleweeds (1939), Back in the Saddle (1941) and Wagon Team (1952).
Whitley's last big screen appearance, in 1956, co-starring with James Dean in Giant.
In the late '50s, Whitley made several guest appearances on Roy Rogers' TV specials.

Beyond his singing career, Whitley managed the Western group the Sons of the Pioneers for a time.

He also played a key role in the history of Gibson Guitars, when in 1937 he helped design their SJ-200,
a jumbo-bodied acoustic model that became a favorite of cowboy singers and country stars for years to come.

Country music history wouldn't be what it is today if not for Ray Whitley. The country music and film star,
imagined the most famous and distinctive guitar in the world.
Whitley's collaboration with Gibson in 1937, resulted in the biggest, boldest flattop guitar ever built – the world's first Super Jumbo.
Whitley was the first performer to own a Gibson SJ-200 (14 fret) and that very first SJ-200 (14 fret), custom built prototype for Whitley by Gibson,
remains on display in the Country Music Hall of Fame and Museum. The SJ-200 was also built as a 12 fret guitar in the years to follow.

After seeing Whitley's custom SJ-200, his co-stars Tex Ritter, Gene Autry, Roy Rogers and Jimmy Wakely all requested their own.

The Gibson SJ-200 has been in the hands of musical greats since it first accompanied Whitley on stage,
such as George Harrison, Bob Dylan, The Everly Brothers, and rockers ... Chris Martin, Pete Townshed, Jimmy Page and Edge.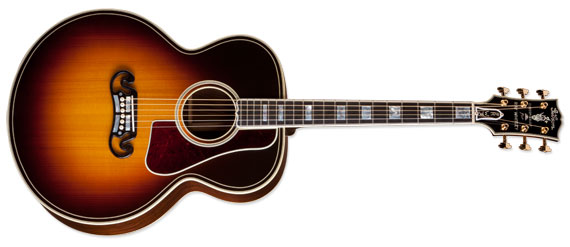 ~